Good morning, or I guess, good afternoon friends. :) Happy Saturday. It's time for another Happy List.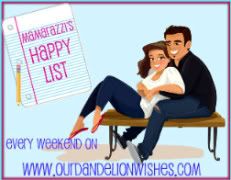 1. I'm sure this is terrible to admit but...I am HAPPY that my husband is out with his friends for the day. The house is quiet and peaceful. He constantly has to have the TV or the stereo on. I'm HAPPY just to sit and enjoy the silence. Of course, the silence is occasionally broken by the slurps of my Dunkin Donuts iced latte. Ahhh. Bliss!
2. I am soooo HAPPY that in our search last weekend, my Mom did find her dress for my brother's wedding. It looks amazing on her and the color is gorgeous. It's called "teal" but it's not obnoxious 80's teal. It's a deeper blue, more like a peacock blue color. It's so pretty. I'm so excited for the wedding. I wish January would hurry up and get here.
3. I am so HAPPY and fortunate to have been in so many weddings. Sometimes I feel like the movie "27 Dresses" is about me. :) (She has me beat though. I will
only
be in my 13th wedding this winter.) Several of my friends got married in 2001. It's hard to imagine but they've been married 10 years now. It feels like it was 10 minutes ago. Time flies! I was very HAPPY and honored to be in my dear friend
Kelly's
wedding on August 11, 2001. Congratulations, Kel. I wish you and Adam many, many, many more!
4. While I don't want to get into all the details just yet, I have been struggling with something personal for quite awhile now. It's extremely frustrating and it has me at the point of giving up. I had a tarot card reading done via email (who knew??) by the very talented
Lynn
and I feel much better now. Dare I say, HAPPY? :) I'm looking forward to the beginning of something great. :)
Well, I guess I really should get my day started, unfortunately. I hope everyone has a great weekend!
Also linking up: