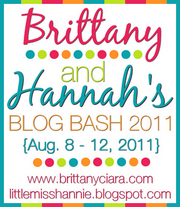 Happy Wednesday. It feels like it should be at least Thursday though. Just sayin. :) On one of the blogs I follow I saw that there was a
Blog Bash
going on. I thought it could be fun so I'm going to join in as well.
So first, a little about me...
(Honestly, I'm lazy so parts of this section were copied and pasted directly from my "About me" page. Hehe.)
I am married to a wonderful man named Travis. We have an adorable pitbull named Maddy. She's the sweetest pup on the planet and would lick you faster than she would bite you. I can't stand people who buy into the hype about pitties being bad dogs. I procrastinate like it's my job. I like wine. A lot. I'm super crafty and have a small side business making chocolate treats. I don't eat meat and haven't since the 3rd grade. I find that the more profanity I use, the happier I am. (For the full version, which includes zombies, please
click here.
)
Now that we have the formalities out of the way, onto the questions....
1.) What's your favorite memory from Summer 2011?
I don't have a favorite memory...it's more like a collection of memories. We go over to our friend Heath's house. We bring Maddy since Heath has a pittie too. Our friends, Tom & Amanda bring their dog too. Everyone just hangs out. We go swimming , we barbecue and most importantly, we drink. This summer I mastered the art of making a kick ass sangria punch which is now the drink of choice. The dogs run around like mad (and truth be told, Maddy humps Amanda's dog, Luna, who is also a girl. It's kinda funny to watch). It's just a fun, relaxing afternoon/evening with some great friends.
2.) What's your dream summer vacation?
Any place that looks like this!
3.) What's your favorite thing to do in the summer?
Kinda goes along with number 1. I love just spending time with my hubby, dog and friends outside...barbecuing and drinking wine or sangria. I love going to the beach too...although, my pasty white Celtic skin doesn't like it so much.
4.) What's your "blog goal" for 2011?
I guess to get more consistent with blogging. I've definitely gotten better but I still have a long way to go. I would also like to continue to increase the number of people who read my blog. It' so fun to connect with people online you wouldn't have had the opportunity to "meet" otherwise.
5.) Let's hear the story behind your blog title! :)
It's "Pink Plaid." The pink part is because it's my favorite color. It's so happy and upbeat. I can't help but smile when I see something pink. Plaid comes into play because I'm Irish and Scottish (my Mom's parents were from Ireland and Scotland and came to this country in when they were in their twenties.) I always think of kilts when I think of Irish & Scottish people...and they are obviously plaid. It just reminds me of family. And nothing is more important than family. So there you have it.
It was fun participating in this little get to know you blog bash. I can't wait to start reading some great new blogs.
Happy Hump Day!
Also linking up to