Saturday morning means another
Happy List
! :)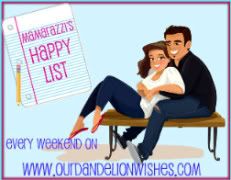 1. I had a really crappy week at work, so I'm happy it's over. YAY.
2. I'm so happy that my brother's wedding is getting closer. 5 months from tomorrow! I was scrolling through their engagement pictures online this morning, and I can see how bored Kevin gets towards the end of the shoot. You can totally see the expression on his face saying, "Are we done YET???" Hahaha. I love my brother.
3. I'm very happy I'm a bridesmaid so I get to share in all the excitement of their big day.
4. I'm happy that invitations for both showers have gone out. I'm nervous that I will spill the beans on the other shower. Uggg, I hope not. Just in case I didn't tell you, we are having a small family shower at my Mom's house in PA and then the "real" (or BIG I guess is a better word) shower in Maryland where my
my
brother and Jackie
live. Our small shower isn't a surprise (Jackie text me to RSVP yesterday which I thought was hysterical) but her other shower is.
5. I'm happy to be going dress shopping again with my Mom for her dress for the big day. We found a dress that we both liked but we wanted to see what else is out there. I know she will end up with that first dress! :)
6. I'm super happy that I just signed up for the
Sisterhood of the traveling journal
. I don't know all the details but it sounds fun. I'll keep you posted.
Oh random side note - I did get my pedicure last week. The color is so cute, it's a bright pink color called "108 degrees." HAPPY!
I have to get ready for my big dress date with my Mom. Hope you all have a fabulous Saturday!