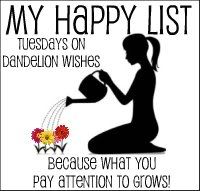 Most days I drag myself out of bed at the very last possible second. Today I'm up an hour and a half early. Why you ask? Because today is massage day at work! Boss man says that morale is way down in the office so he is bringing in a massage therapist once a month, every month, starting today. Hooray. Being preggo, I can't even tell you how bad everything aches. I cannot wait for my massage. Oh yea, I am a HAPPY girl today.
Speaking of being pregnant, I don't know if I've mentioned it but in my Hubby's family we have 3 babies due within 2 months of each other. His cousin, Becky, is due June 1st, I'm June 25th and our sister-in-law, Amber is due July 22nd. It's a very HAPPY and exciting time for all of us. Hubby isn't particularly close to his family which is so odd to me because I'm so close to mine. I'm really trying to bond with Becky and Amber because we're all going through the same thing at the same time. I feel like this experience has brought me closer to Becky and I'm really HAPPY about that.
Becky is (well was, she had to stop for obvious reasons) a volunteer firefighter, as is her brother and I'm pretty sure her father. Her grandfather was the fire chief for years and years. He just retired last summer. I was walking through Walmart yesterday to buy some new socks when I spotted this adorable little number:
It was randomly in the front of the baby section, all alone. How perfect is this for her little fire fighter? Christopher is going to look adorable in it. I searched for a bigger size but none were anywhere to be found. Oh well. I cannot wait to give it to her at her shower. I guess I need to really get shopping for her baby shower. It's coming up in a few weeks. I love putting baskets together so I'm pretty sure that's what I'm going to do for her as well. HAPPY!
I need to get ready for work...don't want to be late on massage day!
What are you HAPPY about? Link up and let everyone know.
Also linking to: