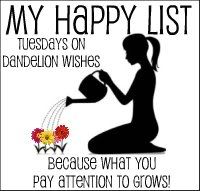 I am so
HAPPY
that the
Happy List
lives on. I don't always get a chance to post but I always remember to count my blessings, however small. It's so nice to see others doing so as well.
I am very thankful that I have such wonderful friends and family. This whole
fertility
thing gets me down sometimes...it makes me
HAPPY
to know that I can count on people around me to pick me back up.
I am so glad that my health insurance finally kicked in. I was paying $100 a month for
one
medication (I think I'm about 5 or 6). Yesterday I picked it up for $35.
HAPPY
!
October is here and it's my favorite month. There is so much to do around Halloween and it's also the start of hockey season. And I love myself some hockey! My Dad and I have season tickets to a minor league team (Go
Titans!
) It's our
thing
and we've done it for the past 6 years. It makes me really
HAPPY
to spend so much time with him.
My Happy List is short and sweet this week. What are you happy for?
Link up with Mamarazzi!
Have a great day!