Sometimes I feel like I'm the most unlucky person on the planet. I feel like there is constantly a black cloud hanging over my head. In order to let the sunshine in, I am participating in
Dandelion wishes' Happy List
.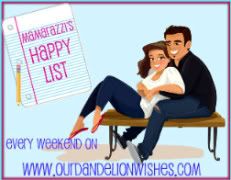 I am happy that I am finally participating. I love her blog and she always seems so freaking happy. I love it.
I am happy that I finally got time to spend with my hubby last night. He gets up for work at 4:30am and by the time I get home at 7pm he is falling asleep on the couch. We had a fantastic dinner (I am still stuffed!) and made it twenty minutes into a movie before he crashed.
I am happy that my brother and his fiancee are in town this weekend so at some point I will get to see them. YAY!
I bought some galoshes online the other day. I am obsessed with galoshes and it's a fun word to say too. Even though they don't fit quite right, I was happy to get something in the mail other than bills!
I am happy that I am getting a pedicure today. My feet need it!! I can't wait to pick out a fun color for my toes.
I am happy that my cat, Scotland, loves to be near me so much that he is laying on my keyboard at the moment. It's making it rather hard to go on with my Happy List so I think I'm done for this week.
I am going to try to link up every week but you know me and my procrastination so we shall see...
Happy Saturday everyone!